OKI Dub Ainu Band (JAPAN)

Click here to listen to sound samples and the online shopping page for this artist
Generally available, now booking 2010/11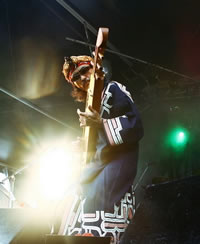 Japan's Dub Ainu Band have already wowed festival audiences around the world. It's been a couple of years since Oki (an Ainu, or native Japanese musician) and his band headed to Europe, but in 2010 they will be showcasing some great new material with the addition of world renowned Brazilian pandeiro player Marcos Suzano, subject to his availability -the quicker he is booked the better! According to all reports, it's a magical addition to what is already a dynamic sound as Ainu songs and rhythms are mixed with dub and other influences.
OKI was born to a Japanese mother and an Ainu father. After graduating in crafts at the Tokyo University of Fine Arts and Music, he moved to New York in 1987, where he worked as special effects artist on film productions. He returned to Japan in 1992, and was presented with his first tonkori - the traditional stringed instrument of the Karafuto Ainu. Originating from the Sakhalin Island, the instrument inspired him to relocate to Hokkaido, where he taught himself to play and craft the tonkori. Currently, OKI is the most prominent performer of this instrument in the world. His contemporary approach, which fuses Reggae, African and Electronica with Ainu folk melodies, has won praise not only in Japan, but also worldwide. Through his active participation in the United Nations' Working Group on Indigenous Populations (WGIP), OKI has developed a network with other indigenous artists. He has collaborated so far with the well-known Native American Flutist, R. Carlos Nakai, the Australian Aboriginal band, Waak Waak Jungi, the Taiwanese singer-songwriter, Pau-Dull (Chien-Nien), as well as Abe Barreto Soares, the East Timorese poet, and the Siberian vocalist, Olga Letykai Csonka. Many of these collaborations are featured on his 3rd album, "No-One's Land", released in 2002. OKI is accredited as the producer for the widely acclaimed CDs "Ihunke" (2001) and "Upopo Sanke" (2003), both featuring Umeko Ando, the renowned Ainu performer of the mukkuri (Jew's harp) and upopo (traditional chanting). In 2004, OKI toured throughout the US, as well as performing at WOMAD in Australia, with his band OKI & the Far East Band. In July / August 2005 OKI Dub Ainu Band performed at WOMAD Reading UK, and OKI performed with Irish group Kila at the Festival of World Cultures in Dublin. In 2006 he toured Europe once again including The City of London Festival, Larmer Tree (UK) Riddu Riddu (Norway) and International Festival of Popular Traditional Music (Barcelona)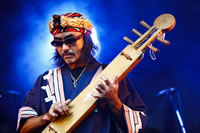 Tonkori - Developed on the northern island of Karafuto (Sakhalin), the tonkori is the only stringed instrument in the Ainu musical tradition. It is a long, flat instrument, which produces mysterious overtones.
These tones are the result of its thin body allowing for sound to reverberate strongly within. The instrument's soundboard is unfretted, and traditionally only the open pitches of the 3-5 strings are sounded, so it cannot be adapted for choral harmony. The limited pitches require the player to rely on rhythmic variations to sustain interest. The resulting sound is clearly distinct from Western and traditional Japanese music.
Discography - Kamuy Kor Nurpurpe (1996), Hankapuy feat. Umeko Ando (1999) No One's Land (2002) Dub Ainu (2004) Tonkori (2005). Dub Ainu Deluxe (2006) Producer works: Umeko Ando, Ihunke (2001), Umeko Ando, Upopo Sanke (2003), Oki Dub Ainu Band (2007), Dub Ainu Band Live in Japan (2007)
Press on OKI Dub Ainu Band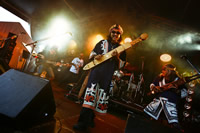 OKI Dub Ainuís ascent towards being Japanís most celebrated musical outfit is firmly underway. After a stunning performance at WOMAD2005 they then whipped through Europe this summer winning great acclaim. A magical brew of Ainu (native Japanese) psychedelic folk dub
Garth Cartwright, fRoots October 2006

In headband, patterned robe and Puma trainers, wielding his ancient five five-string tonkori, Oki led the Dub Ainu Band through a drifting set based on traditional music but with the pulsing, big-bottomed feel of an Ainu King Tubby.
Jane Cornwell, London Evening Standard, July 2007

A fascinating mix of old and new, sort of T Rex meets Horace Andy and Can in Hawaii.
Charlie Gillett , BBC Radio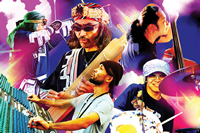 It's like nothing you've heard before
Steve Barker, Wire

A bugged out trippy affair distinct from any dub contemporaries we have come across Future World Funk in Straight no Chaser No holds barred having great fun stripping down the vocals, adding bits of reverb and pumping up the volume fRoots My tip for the top-it sounds like a polite, oriental Bow Wow Wow.
Great Fun (4 stars)
Howard Male, Independent on Sunday

Mesmeric acoustic grooves and assorted global influences. OddŠand out there Neil Spencer, The Observer.
With rock 'n' roll attitude Oki Dub Ainu Band spun trance-like grooves with bass and side drum percussion.
Simon Broughton in Songlines
A Global Album of the Year (Tonkori CD)
Wire Magazine, January 2006