RIKKI (AMAMI, JAPAN)

Generally available, now booking 2010/11
Line up- 4 musicians plus 1 manager
Rikki (Vocals /Shamisen)
Hiroaki Sugawara (Chorus/A.Guitar/E.Guitar)
Nobuo Nakahara (E.Bass)
Yuko Nakakita (Percussions and others-djembe, udo, conga, cajon, cymbal, wind chime/Chorus)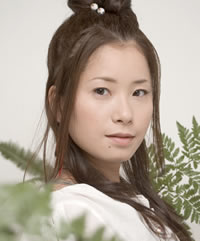 Rikki is from a place just about as far south in Japan proper as you can get. Amami island is the last drop of Kagoshima, the southernmost prefecture of Kyushu, the southern of the four main islands that comprise Japan. Lying almost exactly half way between Japan and the southern islands of Okinawa, the music of Amami is a unique hybrid of its two neighbours. The music sounds stylistically essentially Japanese, but is played on a sanshin,(snake skinned banjo) more similar to Okinawa. The distinctive falsetto singing style is just about unique, there being little similar in either Japan or Okinawa. ?Amami shima uta (island songs) are often considered to be the Japanese blues, and the southernmost of the country's folk styles.?Rikki (full name Ritsuki Nakano) was born to sing Amami shima uta. ?She started when she was four years old, making her 'public' debut at a minyo (local folk songs) award show in Kagoshima City the following year. The next year, still only six, she won that award and for the following six years until 1988. At the age of fifteen she won the National Folk Award title, the youngest winner in history.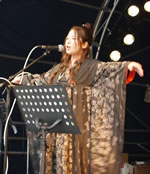 With arrangements featuring the Okinawan sanshin (lute) plus electric and acoustic guitar, bass and percussion, her music is a natural mixture of island and world instrumentation with stunning vocals from a world class singer. In 2005 Rikki was the sensation of the Masala Welt Beat Festival in Hannover, Germany. In 2006 she was received with much critical acclaim at the City of London Festival. Charismatic and visually stunning, dressed in a kimono, her prodigious talent is unquestionable and she is one of a very few young artists in Japan with the ability to bring the unique and colourful culture of her birthplace to a worldwide audience.
CD "Miss You Amami" released by Rice Records UK in 2004.
Available worldwide, time period and samples available upon request.
Press on Rikki
"the voice of a world class singer"; fRoots