Amami Island Modern Roots Music from Superb Female Vocalist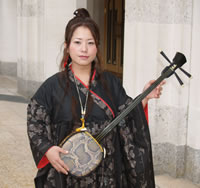 Rikki is from a place just about as far south in Japan proper as you can get. Amami island is the last drop of Kagoshima, the southernmost prefecture of Kyushu, the southern of the four main islands that comprise Japan. Lying almost exactly half way between Japan and the southern islands of Okinawa, the music of Amami is a unique hybrid of its two neighbours. The music sounds stylistically essentially Japanese, but is played on a sanshin,(snake skinned banjo) more similar to Okinawa. The distinctive falsetto singing style is just about unique, there being little similar in either Japan or Okinawa. Amami shima uta (island songs) are often considered to be the Japanese blues, and the southernmost of the country's folk styles.
Rikki (full name Ritsuki Nakano) was born to sing Amami shima uta. She started when she was four years old, making her 'public' debut at a minyo (local folk songs) award show in Kagoshima City the following year. The next year, still only six, she won that award and for the following six years until 1988. At the age of fifteen she won the National Folk Award title, the youngest winner in history.
On 'Miss You Amami' Rikki sings traditional songs and others rooted in the island tradition, with other influences and elements to create a new Amami island music. Still only young, (she was born in 1975) Rikki is somewhat a veteran of a new Amami island movement in modern roots music. Back in 1995, Japanese producer Makoto Kubota, revered for his productions of Asian music, was one of the first to recognize that Rikki had the talent to help him create a new Amami island music on the album 'Rikki.
'Miss You Amami' was produced by Katsunori Tanaka, who worked with Kubota on some of his Asian projects and produced a succession of albums while living in Brazil. It was this experience that gave Tanaka the impetus for including the feeling of 'saudade', a Portuguese word, relating to a feeling of yearning, and at the heart of much Brazilian music. At the time she made this album, Rikki had lived away from Amami for about five years, and was experiencing saudade, and is behind the title of this album, 'Miss You Amami'.
The album also features Yuki 'Alani' Yamauchi, a Japanese master of the Hawaiian slack key guitar, Brazilian percussionist Beto Cazes, Malaysian accordion player S.Atan, and Japanese accordionist Aki Tamura. On sanshin, the traditional banjo like instrument, is the great Shunzo Tsukiji, one of Amami island's finest traditional musicians, and mentor of Rikki. Taking center stage however is Rikki and her beguiling voice, drawing from her rich heritage, dripping with emotion, and taking her tradition into new territories.